Well Decommissioning
Well Decommissioning
The URNRD helps protect groundwater supply by providing a decommissioning cost share program. Reimbursement will be 75% of actual cost not to exceed a maximum in cost-share of $500 for all wells except $1400 for a hand dug domestic well.
Decommissioning Water Well Guidelines
All below ground pipe and any above ground pipe or equipment must be removed. The cost incurred in this removal is not eligible for URNRD cost share.
The well must be decommissioned in compliance with Nebraska Health and Human Services.
The decommissioning of the well must be completed within nine months of the application approval date.
All plugging work must be performed by a licensed well driller or pump installer.
The cost share rate is 75% of actual cost not to exceed $500 for all wells, except $1400 for a hand dug domestic well.
Report fill materials and quantities used to plug the well to the URNRD and Nebraska Dept. of Water Resources.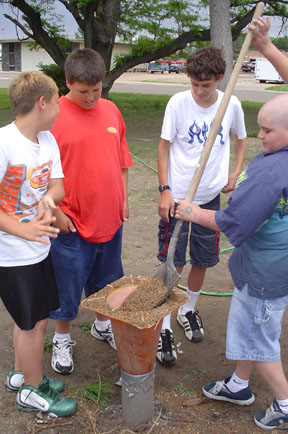 Decommissioning Water Wells Procedure
Review decommissioning water well guidelines.
Landowner must fill out the application form provided below and return to the URNRD.
Approval by the URNRD will be made and Part 2 of the form will be returned to the landowner for completion by the contractor.
The form will be completed by the contractor with information about the fill of the well. The completed form and a bill indicating all the charges will be presented to the District by the landowner.
Reimbursement will be made to the landowner after the claim has been reviewed.