Mission
Mission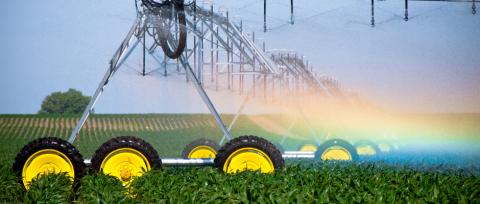 The URNRD has actively managed water use since the late 1970's when it became what is believed to be the first entity in the country to limit and require the reporting of agricultural water use. In 1997, it became the first NRD in Nebraska to place a moratorium on new groundwater development. The URNRD and other NRDs in the State of Nebraska operate under a nationally unique system that gives them broad authorities to regulate water use in manners that are appropriate for the hydrology and other aspects of their Districts. By exercising this authority, the rate at which groundwater within the URNRD has been preserved is 50%-80% above what was predicted would occur without regulations.
The District will continue to develop management programs to extend groundwater reservoir life to the greatest extent practicable, allowing for the beneficial use of water in an effective and efficient manner to satisfy the District's socio-economic needs and obligations while minimizing the risk that water resources will be insufficient for future generations.
The District plans to develop and enforce rules and regulations that provide for appropriate protection of the aquifer to slow and eventually stop water table declines so that beneficially usable quantities of water remain in the aquifer. The District will continue its practice of offering incentives to induce practices that increase water use efficiency.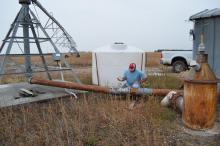 The URNRD has management plans and actions in place to reduce the potential for non-point source contamination of ground and surface water through education, research, management practices, incentives, and rules that protect the water but also minimize adverse effects on the economy of the area. A total of 250 wells across the District are sampled each year for conatminants and the URNRD has drinking water test kits available for individuals to test domestic and livestock water wells at no charge. The District's water-quality sampling program began in 1974 and currently, 64 domestic wells are sampled for nitrate levels.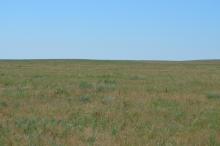 Soil Conservation, Range and Wildlife Management, Flood Control
The District has a goal of maintaining the quality and productivity of soil resources and prevent on and offsite damage from sediment caused by wind and water erosion. This is accomplished through education, cooperation with entities including the USDA, enforcement of sediment and erosion control rules pursuant to state law, and other measures. The District distributes trees at a cost to help achieve these goals. Tree planting also corresponds with a District mission of establishing and enhancing wildlife habitat.
Maintaining and enhancing, when possible, grasslands within the District is accomplished through educational outreach to landowners, cooperation with partner entities, and cost share on the establishment of eligible grassland. The District provides grass seed and the use of no-till grass drills at cost to help accomplish these goals.
The District endeavors to minimize loss of life and property through feasible floodwater and sediment control programs. The District assists entities in applying for local, state and federal programs for the construction of terraces, waterways, and other projects. Landowners are also informed of sources of engineering and technical assistance to solve flood, erosion and water-related problems.
The District works with entities to implement hazard mitigation projects identified in hazard mitigation plans to reduce or eliminate damage from natural disasters such as wildfire, tornadoes, blizzards, drought and flooding.